Here You Go:
March 11th, 2012
Filed under
Day + Day, Family + Motherhood
|
Comment (0)
It's been a while since I looked at the sky. For no good reason. I follow the demands of my little ones quite often as they direct my attention to the moon or a star or a jet stream, but I have to admit that I don't often ascertain the same wonder they seem to glean. No, my gaze is sometimes more of a momentary patronage of their whims while my brain is centered on my own passing fancies. I guess that's how it goes with the seemingly constant multi-tasking that calls itself motherhood.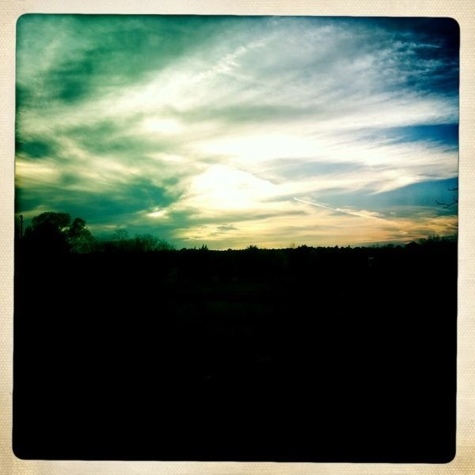 Yesterday afternoon I looked at this sky. On purpose. For no OTHER purpose but to see it. My children were using it as a time-keeping device for how long we could stay outside — until the sun went down. But, I was just looking. Just looking to see it change and glow from a peaceful seat. Just looking to let it impress me, which it rarely fails to do when I'm paying attention.
On Friday the kids and I came to the farm to spend the week of Spring Break. It's a place where the main rule has become, "everyone does what they want to do." And while being the mommy requires me to keep that in reason, still we try to adhere to the spirit of the rule as closely as possible. We've all been looking forward to it for a long time — since our visit here for Thanksgiving really, when we had the idea to spend this week here. It's been my pleasure to plan moments and days in this place away from our routine, and somehow the moments become cause for celebration.
The word "respite" is defined as an interval of relief. It's the word that has risen in my thinking as I've been approaching this week on holiday. I've felt the need recently for a respite and when I arrived at the farm I realized that I've been relying on this week to provide it.
A respite.
From demands.
From schedules.
From keeping time.
From routine.
From stresses.
From creative exercises.
From information.
From availability.
From the pull of being in touch.
From the push of deadlines.
I found myself reducing my expectations for any "work" I wanted to do this week, communicating to clients transparently that I would be out of town. I found myself eliminating my own overestimation of what I might accomplish — a rare occurrence for my brain which is a champion overestimator when it comes to organizing "free time". I found myself searching my bookshelves for more books to read and skimming past the design titles for more fiction options. And, of course, I found myself wanting to soak up my babies, just to enjoy their presence and their laughter and their funny stories. I get that a lot from them, but I've been looking forward to a time when it wasn't encumbered by schedules and reading homework and my own need to do the dishes or put the toys away.
Yes, I have a lot of expectations about this week at the farm. The funny thing is; those expectations aren't based on what I'm doing. They're really based on what I'm NOT doing — my own willingness to stop. To sit. To listen. To laugh. To gaze at the sky.
© Haley Montgomery