Here You Go:
July 14th, 2010
Filed under
The Tuesday Ten
|
Comment (0)
Wow! A Tuesday Ten post. Yep, the last one made an appearance back in May. Ouch.
I know; I know. It's been an unreasonable amount of time since I've posted anything with real substance, and to be honest, I doubt this one will qualify either. However, I wanted to update the Junksters on some things that have been going on lately. You're not going to see George Steinbrenner or Afghanistan or BP (well maybe a touch of BP), but they are newsworthy in my world nonetheless. And since I was in press release mode for my day job recently, I decided some EJ headlines were in order. Much of this post could easily have been part of an Oh Happy Day! Gratitude Project report, but I've opted for Tuesday Ten since it's Tuesday Wednesday, and I'm in the mood for lists.
So, without further ado, I give you this week's Tuesday Ten: Top Headlines in Junkie Land. I'll go ahead and say right away that I can't call it "late-breaking" because, I'm, well, late. But, you know me by now and to apologize would be redundant.
1. "Tuesday is Wednesday"
At least in EyeJunkie world this week. Sure enough, I'm late and not late-breaking.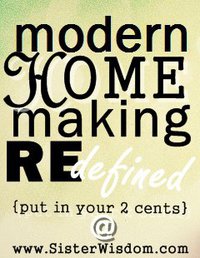 2. "EJ Discovers Guest-posting Rocks"
I was invited by my friend, Annie, over at SisterWisdom to write a guest post as part of her ReDefining Modern Homemaking series this June. I was ridiculously negligent in promoting the series or my guest post, but click on over there and read it. And read the whole series while you're at it. It's moms from all walks sharing about how they view homemaking. Good stuff.
3. "Baby Girl Becomes Verbose"
Yes, my planned Tuesday Ten of Baby Girl's burgeoning spoken vocabulary will need to be bumped up to a Thursday Thirty soon. How has this happened in my brief neglect of EJ? The news of note here is that "cheese" and "sickle" read "popsicle" have been added to the list. That's my girl! And, you'll be comforted to know that "No, Mama!" is still a perpetual favorite phrase. The more things change, the more they stay the same.
4. "Gulf Waters Matter"
You may have seen my recent posting of a dialogue about the Gulf oil catastrophe. I submitted the essay to my friend Ann's Blogger Monday with Ann Evanston weekly roundtable of blogs on Facebook. I was amazed to see the interest of folks outside of the Gulf region in this earth-changing event. So, click over to that article and scroll down to the comments. They are worth the read.
5. "The Queen is Relinquishing Her Throne"
No, not the Queen of England or the Queen of all Media. The Queen of Dux D'Lux, my day job home for 16 years, decided in late May to retire. She opted to close the company, and I'm very excited to see what cool creative endeavors she finds next. Needless to say, her abdication means big changes for my work situation, but I am so grateful for her mentorship and friendship over the years. Plus, she's promised me a pie.
6. "Little Drummer Boy Steps Out"
Into the big ol' world. In August, LDB will be starting "big school" for five-year-old kindergarten. Can I get a Kleenex, please? I'll no longer be the mom of three preschoolers. I'll be mother to two plus one kindergartener with a Spiderman backpack in tow. I'm sure my processing of this particular event will be fuel for several upcoming essays. At the moment, suffice it to say: "Thank God he still wants to hug me." I wonder how long that will last.
7. "Haley Jumps Into the Deep End"
Given the advent of #5, I'm pleased to announce that I started my own company this month offering graphic design, website development and online media services. I'm calling this whole shebang Small Pond Graphics, and it's been quite a leap. I've been so amazed by the support and encouragement of my Dux D'Lux clients as well as my network of family and friends. Starting a business is a scary endeavor, but an adventure I'm very excited about. So, hop over, dabble your toes a little and let me know what you think. Also, please connect with me on the Small Pond Facebook page. I'd love to include YOU in the dialog.
8. "Plop! Launches"
So, I'm spreading my writing wings a little more. In conjunction with Small Pond Graphics, I've also launched a new design and marketing blog called Plop! You can read the backstory in my first post there, but I hope to use it to highlight the wonderful clients who place their confidence in my abilities, to offer exposure to some of the "creative types" in my life who are using their talents to do cool things, to inspire readers with images from around the design world that are fueling my own creativity, and to share some of my experience and maybe expertise in the areas of business communications and marketing. I hope you'll book mark it or "follow" it on Facebook and join the creative conversation.
9. "Reclamation is the New Black"
Yeah, had to work hard on that one. Obviously, the structure of my days has changed somewhat with the closing of Dux and the launch of a new business. I'm very excited that I've been able to reclaim an area of our house to use for my office space. Something about getting my surroundings settled always helps settle my spirit as well. So, the opportunity to make this space usable and comfortable was very cathartic during this time of transition. I've gathered my books, reference materials, design inspiration, crazy packrat files, art supplies and general Wacky Pack nonsense all in one spot. It's lovingly displayed and arranged so that I have computer working space, meeting space, art/layout space and couch space (which is so important). Enjoy a quick look.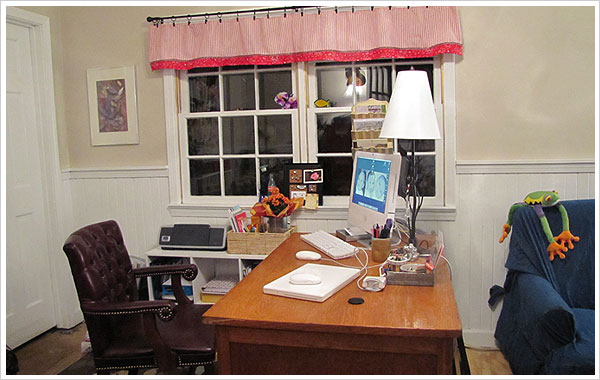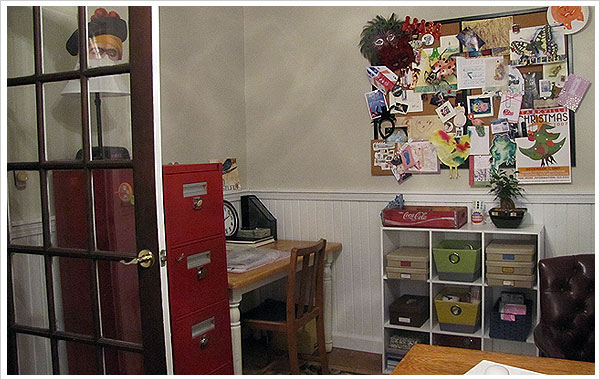 10. "Invisible Girl Returns"
With all the changes and transitions in my life of late, it's been a challenge to find the time to write here. It's been even more of a challenge to muster the energy for the soul searching so often required for a quality look inside. Thank you for hanging in there with me. Regardless of the new adventures ahead, I still need this blog as my unencumbered outlet for thinking, paying attention and writing about that process. I'm ready to return. I'm working on some new posts to share soon. The first will involve green flamingos and Nelson Mandela. How's that for a teaser?
© Haley Montgomery